Private Hire Drivers Jobs
Why Do I choose BATRANSFER?
No Deposit Required
No more little little jobs and no need to run continuously like crazy. Our jobs topically from £20 to £150 each job. Usually 4-6 jobs per day will give you the big turnover.
Average earning £1500-£2000 a week depending on experience and vehicle type Full time Job? Only 100% Airport Jobs Quality CASH Jobs + Accounts Jobs
You do good service to the customers they will reward you with gratuities (Tips).
Only want do part time driving like 2-3 jobs a day then still fine we are flexible.
Usually we will allocate the jobs 4-24 hours in advance so you can prepare yourself in advance.
Currently Recruiting Drivers With Any Executive, 7 & 9 Seaters.
Full Electric Cars
Tesla Model 3, Tesla Model Y, MG ZS, VW ID4, VW ID5 cars

Executives Cars
BMW 5-6 Series, Audi A5-A6, Mercedes E Class and other luxury cars.

7 Seaters
VW Sharan | Ford Galaxy | Seat Alhambra.

9 Seaters
VW Transporter | Renault traffic Ford Tourneo| Mercedes Vito| Seater.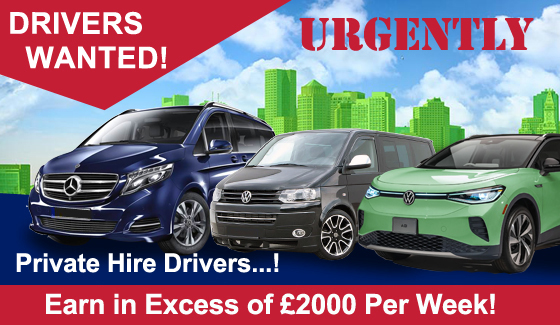 ---